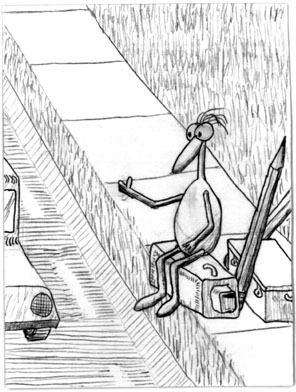 On the way to work this morning I saw  Ricardo trying to hitch a ride North.  An hour later,  I saw him in the same place.   At 11:45 Ricardo  walked 2 miles back into town ( carrying a large back pack,  and guitar ).  As I drove to Spahn and Rose Lumber Yard, I noticed him sitting on the  steps of St. Matthew's Lutheran church, head in his hands). 
       A very small voice in my head suggested, maybe, just maybe  I should offer to buy him lunch…hummm, I'll have to chew on that one for a while… still  not sure if that was "God's "still small voice, or an over sensitive conscious.   A verse from Hebrews came to mind :
" Do not neglect to show hospitality to strangers, for thereby some have entertained angels unawares." Hebrews 13:2
       As I drove back to the job site, I thought to myself…what the heck, if he looks harmless enough, I'm up for a little adventure, it's lunch time and my wife won't be home for lunch anyway. 
          He had vanished.  I thought  he couldn't have gone far, not with that large  pack!  Sure enough, a block away, I saw him walking up to the door of the Catholic Rectory.  I pulled up along side of him and said, "How' s it going?"  (I sized him up, he didn't look like a homeless man off his med's, I spotted a sign on his back pack, something about  Jesus, ….he was a slight man, late 50′s, probably one of those "Jesus people" from the 60′s I decided)
"Can I buy you a lunch @ Hardee's?   I offered.  
        I found myself talking to Ricardo Spadaro, on his way to the West Coast.
      (I need to stop for a second and say a couple of things).  First, I am not in the habit of picking up hitch hikers anymore…just too many crazies out there.  Secondly,  I am not in the "habit" of hearing God speak to me  at least in the way, my more charismatic brethren are…  Thirdly,  I am not  your touchy feely type, I like my space, I do give hugs on rare occasions, but I think it has something to do with  my German roots)
     Back to Hardees…as we got to the restaurent, I slipped Ricardo, a $20 and said, "Keep the change, this is my investment in your trip". :-)  (At this point, he gives me a big hug)
   Oh oh, I'm thinking to myself…I hope no body  saw that
      Ricardo, said he hadn't eaten for two days,  he was out of smokes, and couldn't thank me enough.  (I decided @ that point, I would run him up to Hwy **, it was 20 minutes North, I would have to take an extra 1/2 hr for lunch, but I was having fun, and as you know, what goes around comes around)
      We took off,  food in the bag,  made another stop  so Ricardo could get a cup of coffee.  As we drove out of town, he pointed to the soybean field where he's spent the night under the stars.     "I heard someone hit a deer last night".    I asked him where he was headed…He  said he was heading West for the Winter.  Somewhere warmer.      As we got to his drop spot, he told me he wanted to give me a copy of some of his poetry.  (I have it in front of me as I write this).  Did I really see an angel?  I don't know.  If he was, then I saw an angel roll his own cigarette.
________________________________________________
postscript 12/1/07  After writing this post, I came across this excellent article from World magazine that dovetailed right this musing so I'm going to attach it below…DM
Missing Christ
Sometimes He's easiest to find on the street | Tony Woodlief
I saw Christ on a street corner in Washington, D.C., disguised as an alcoholic felon. I don't often notice Christ. I can sit through entire church services and not see Him. I'll notice which worship songs are individualistic pablum; I'll remember if the sermon is more about what the Bible doesn't say, or if the pastor is bent on setting people straight. But I'll miss Jesus, occupied as I am with criticizing on His behalf. So it was unexpected, this Christ-sighting.
For I was hungry and you gave Me food, Christ called out to me as I passed. It was late; I just wanted a meal and my comfortable hotel bed. But I made the mistake of eye contact. "They spit on me!" he shouted. It was so unusual that I stopped. He was crying with frustration. Someone had given him spittle instead of money.
Want to read more? Get news and commentary each week from WORLD Magazine and up-to-the-minute news and features from WORLDMag.com.
"I don't want no trouble," he told me. "But I'm a man. What would you do if someone spit on you?" I got the sense that he could have spoken all night, to anyone who would listen without spitting. But he realized that the uncomfortable man standing in front of him, the visitor with the roller bag, might fork over some money. He launched into his routine: just out of prison, trying to keep straight, in need of a few dollars.
I've given my share of coins to people on the street, more out of discomfort than good intent. I've read that many homeless are mentally ill, or addicted, or both. Pocket money won't do them any good. My friend Dave once took a bum to McDonald's, to be sure the guy wouldn't buy liquor with his money. The man complained when Dave handed him a Big Mac, because it had no cheese. I find myself clinging to factoids like those to justify my inaction.
Inasmuch as you did it to one of the least of these My brethren, you did it to Me. I couldn't get that out of my head as I listened to the bum's pitch. "If I give you money, are you going to buy booze with it?" He looked offended. "You know how it is," I told him, doing my best to sound worldly wise. "I want to know."
His shoulders slumped, and the salesman's gleam left his eyes. "Naw, man. I just want to eat." He was tired, too.
I gave him twenty dollars, and he wept. I didn't tell him I had eighty more. The truth is that he probably did buy liquor with my twenty, and had I given him a hundred, he likely would have killed himself with booze. The truth is that I should have taken him somewhere and bought him a meal. The truth is that I was tired, and Christ comes on you so unexpectedly with His demands. It's easier to buy an indulgence than to give of myself, especially to someone so dirty and scatter-eyed.
I asked if I could pray for him. It wasn't my idea; it just overtook me, the way God sometimes does. He seized my hand, and I prayed that he would be released from his addictions. My neck burned as passersby stared. When I finished he gripped my arm, and he prayed that God would bless me. He cried harder, and tried to give back my money. I smelled wine on his breath, and marveled at how well Christ can disguise Himself.
As we parted, I was tempted to feel good about what I'd done. But I knew, in that deep-down nagging part of a Christian's heart, that I hadn't done anything at all. We deceive ourselves that we are righteous by virtue of the occasional gesture.
Flannery O'Connor wrote: "While the South is hardly Christ-centered, it is most certainly Christ-haunted." If not the South, this is true of me. I haven't thought about that bum much. But I awoke to a chill this morning, and felt the presence of Christ, reminding me of the unfinished business we have with one another. I wondered who blessed whom on that street corner, and if Christ will ever tire of coming to me in these ways, given how unfaithful I am in coming to Him.
—Tony Woodlief lives in Wichita, Kan., with his wife and four sons.
Copyright © 2007 WORLD Magazine
November 24, 2007, Vol. 22, No. 43