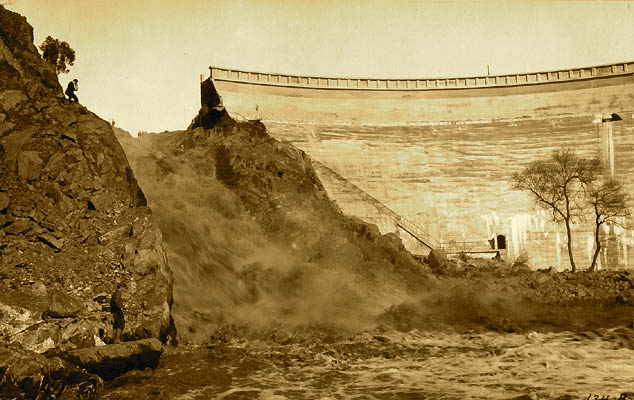 I can still remember the night the  dam burst, the night I said what I was really thinking.  I was 20, the kind of guy you could  bring home to  mama,  and as phony as a $3.00 bill.  I was a relational chameleon.
         M and I had been dating for 4 months and I sensed her starting to withdraw   (just like 4 other girls before her.) 
       We were sitting on an  old stuffed coach in my bachelor's apartment…she talked of moving to out of town, not really sure what she'd do or where she'd work,  but was feeling restless. It  was @ this point,  something inside of me started gushing…. out of my mouth came  my frustrations, my confusion, my sense of insecurity.  There I was telling her what I was really  thinking, and it was exhilarating
      Charles Swindol wrote a book called  "Dropping Your Guard"   where he talks about the value and power of  authentic relationships, living life transparently, without masks.  That book changed my life.
     I read a post by Sanityfound   this week where she talks honestly about her choice to live life with child like abandon.  Don't let her sometimes silly come backs throw you…she is articulate,  wise beyond her years (suffering will do that to you ),  reading that post  gives me insight into why she does what she does…it's an intentional choice.. In my life, different issue, same result…once I tasted the freedom and power of living life without a mask, there was no way I was going back. 
      I loath  (I know that 's a strong word but it is how I feel), I loath mask wearing and pretense…give me an honest respectful  conversation any day.
     One of the highlights of this past year blogging is I have met  people who have  taken off their masks with me.  They may still chose to remain "anonymous"  to the public at large,  but with me , they have pulled back the curtain of their lives and we've  connected on a deeper level.   They know the real me and still  they  are willing to call me their friend.
      I know some of the reasons why I wore a mask.. (low self esteem, past hurts, feels safer to wear mask than risk even more hurt, bla bla bla)..but do you know the price tag we pay  for doing that?… a lonely life, because  nobody knows the real you.  you would be amazed at the number of people who will love you anyway..and Christians by the way are some of the biggest mask wearers there are…we think we have to be this perfect person in order to effectively represent the God we profess to follow…when in fact,  our life is a joke. 
    Thoughts, questions comments?